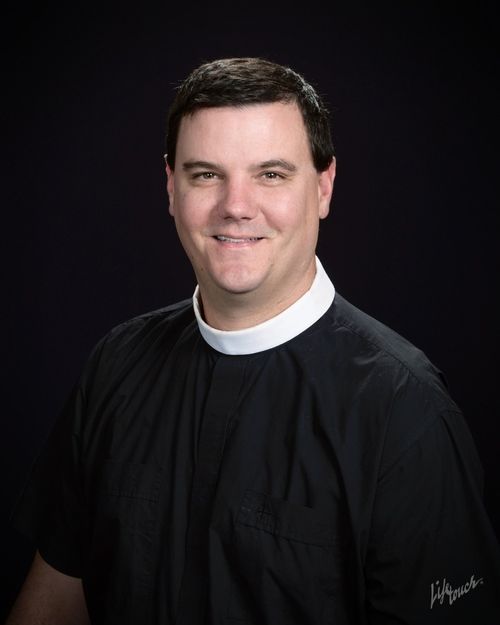 Brandon was born and raised in southern Ohio where he received his first degree in Plastics' Engineering. Near the end of getting this degree, he felt God calling him into full time ministry in the United Methodist Church. Brandon left home and solidified his calling into ministry while at Asbury University. At AU he also met and fell in love with his wife, Rev. Rachel Gilmore. After college they both joined the US Peace Corps where he taught English and Physics in a high school in Lom, Bulgaria. While living and serving in Eastern Europe, they traveled extensively and did several secondary projects: taught baseball to children in Lom, improved the living conditions in the local orphanage, and co-led the Anti-Trafficking in Persons Committee for Peace Corps Bulgaria. After serving two years in Bulgaria, Brandon went to Duke Divinity School and received his Master's of Divinity degree in 2009 (and became a die-hard Blue Devils fan - Go DUKE!). In 2008 Brandon became a father for the first time with the birth of his son, and then later on in 2011 his daughter was born. Brandon loves being a father to his 2 children, a husband to his amazing wife and a doggy daddy to his boxer and pug.

After completing his MDiv at Duke, he was the associate pastor at St. Andrew's UMC in Virginia Beach, VA. After that he was appointed to St. John's UMC in Norfolk, VA where the church was revitalized by starting a new worship service, expanded community missions, and completing two capital campaigns. Then he was appointed to Nimmo UMC in Virginia Beach, VA where he again added an additional worship service and successfully led a $1.2 million capital campaign to renovate and expand the footprint of Nimmo UMC.

Pastor Brandon came to Central UMC in July of 2021 and is looking forward to using his skills and experience to expand the missions and ministries of Central UMC. Brandon also sits on the board of the Phoenix Peace Corps Association. He is already creating new community partnerships and building on current partnerships to create a holy synergy around the music and arts communities here in central Phoenix, while creating more opportunities for missional service in our community here at Central UMC.
Rachel graduated from High School in Okinawa, Japan before getting a Bachelor's of Science in Education from Asbury University in 2003. She and Brandon joined the Peace Corps in 2004 where she spent two years teaching English to 300 elementary students in Lom, Bulgaria and worked with the International Organization for Migration as the co-chair of the Anti-Trafficking in Persons Committee. In 2009 she graduated magna cum laude with a Masters in Divinity from Duke Divinity School. From 2009-2019 she was a church planter in Virginia Beach. Over her ten years at The Gathering at Scott Memorial UMC, she grew the church from 10 young adults to over 250 active in the faith community. She also founded Beach Gathering Montessori Preschool and The Gathering Academic Preschool, two non-profit preschools in Virginia Beach and Norfolk. In 2019 her family relocated to Nashville where she served as the Director of Recruiting, Training and Assessing for Church Planting in the United Methodist Church at Path1/Discipleship Ministries. She also launched a podcast and authored two books that were published in 2021. In 2021 she also co-founded "Intersect: a Co-Planting Network" that offers coaching, community and courses for spiritual entrepreneurs that are seeking to be post-colonial, diverse, inclusive, equitable, contextual and incarnational. As part of that work, she is a qualified administrator for the Intercultural Development Inventory. She currently serves as the missional consultant at Central UMC and also volunteers for the LGBTQIA+ Policy committee for Phoenix One School District and as a chaplain for the Arizona Department of Public Safety where she is a trained CISM facilitator.
Dennis Manuelito came on board at Central UMC as Administrative Assistant in January 2022. He has worked as an administrator in varying capacities in the private and non-profit sector, with much of that time in the San Francisco Bay Area. He is a military veteran having served in the U.S. Navy from 1984-1988. He attended college at the University of Colorado, Arizona State University and University of Phoenix. In his spare time, he likes to walk, hike, bike ride, and read. Some day, he hopes to go camping again as he did many times in his youth.
Support Staff For Congregational Care, Worship, and Discipleship
Marilyn moved to Arizona from upstate New York in 1970 after graduating from the State University College of New York at Potsdam with a degree in music education, with an emphasis on piano. After not attending church for several years, she was invited to attend a Tenebrae service at Central United Methodist Church. Central United Methodist Church has been my church home since 1975. I have many fond memories of participating in musicals at church, singing in the choir, ringing bells in the bell choir, teaching Sunday school and being involved with United Methodist Women. Currently I work in the church office entering membership and contribution information two days a week. Teaching the Christian Ambassador's Sunday school class is a very rewarding experience for me. This is Central's longest running class which was established over 50 years ago to meet the spiritual needs of developmentally delayed adults who reside at Laura Turner homes. I also enjoy playing the piano as an interim pianist for our 10:15 worship service.